Rue ANcienne 60 - 1227 Carouge-Genève
ME-SA 2-6pm and by appointment
Art Now projects is represented by its two partners, who share the same passion for art and the desire to undertake projects together. Frédéric Elkaïm and Franck Landauer.
The two "F "s founded Art Now projects in 2021 to produce art events together. The gallery provides a forum for exchange through exhibitions, as well as hosting artists' meetings, art courses, performances, workshops and any other experimental activity designed to promote a better understanding of art.
The artistic line is primarily guided by:
- The distortion of reality, articulated between the poles of the trivial and the sublime: poetically transfiguring while respecting the heaviness of living things, their richness, fragility, imaginary and aesthetic potential. The aim is not to create beauty, but to achieve a certain level of contemplation while remaining committed to concrete issues.
- Playing with borders and margins, both in terms of content and the ability to exercise freedom of thought outside the bounds of "good taste", but also by tackling particularly daring subjects. This includes exploring new territories such as digital art and NFT.
The French-speaking axis of Brussels - Paris - Geneva is also given priority.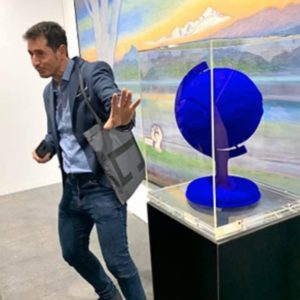 A specialist in the contemporary art market, Frédéric is a well-known figure in Geneva's art world.
Frédéric was director of Drouot Formation, the art market school in Paris, and is now Art Advisor for collectors, artists and companies.
Frédéric is also the author of books, articles and art texts, and curates "Pop Up" exhibitions.
His most recent publication is "Parlez-vous l'art contemporain?", published by Magellan.
He devotes part of his professional life to teaching art lovers about contemporary art and collecting, particularly since 2018 in Geneva with the "Art Now by Frédéric Elkaïm" platform, which naturally inspired the name of the new experimental space he is opening with Franck.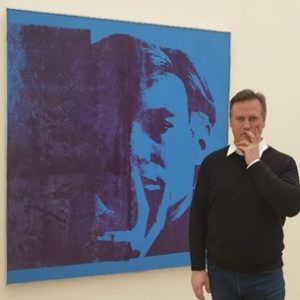 He gets his entrepreneurial side from his father and his artistic side from his mother. After a university degree in engineering, he left to work in South-East Asia for several years. He then worked in real estate in Europe for almost 15 years.
He is passionate about team management, having been certified as a professional coach, and about aeronautics, having qualified as an airplane pilot.
His taste for art was cultivated at a very early age through music, practicing guitar and solfeggio since childhood, and his mother's introduction to painting and visits to art institutions.
He went on to become a collector, making it a point of honor to maintain a strong human link with gallery owners and artists.
Today, it is a logical outcome for him to be able to offer a new place for experimentation with Frédéric.